California Parking Services is a premier full service valet, parking management and transportation company that covers Southern California and beyond. California Parking Services was founded on the simple work ethic of " Total Commitment to our Clients". A commitment to provide:
• Successful, efficient, worry free operation.
• Highest standards of customer service.
• Professional, experienced, pro-active management.
• Safe and positive work environment.

Since 1985, our dedication, hard work and resources have earned us many long time loyal
clients. We have a successful operational track record in:
• Valet Parking: Casinos, Hotels, Commercial Buildings, Medical Facilities, Retail Centers,
Restaurants, Night Clubs, Special Events (entertainment, corporate, private) regardless of size.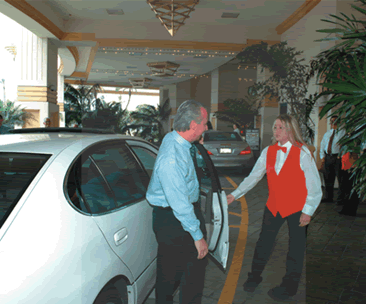 • Parking Management & Leasing: Parking Structures and Open Parking Lots.
• Transportation: Limousine (Executive and Stretch), Taxi, Shuttle (Buses and Vans), Auto
Fleet Moving.
• Auto Services: Car Wash (set-up and management), Auto Detail Centers.California Parking Services takes pride in its management and employees to reflect commitment
to excellence and to be a LEADER IN SERVICE.